In the early 1950s, cyclones were being used in the kaolin industry to separate the finest kaolin particles into products that could be sold at a premium. Their success gave a boost to cyclone technology and led to the design of small cyclones that could efficiently extract the very fine particles from the feed. This was timely, because fine-grinding cir­cuits were starting to become important.
Kaolin or China clay is a white clay whose main constituent is the aluminosilicate mineral kaolinite. Kaolin deposits result from the weathering and decomposition of granites and pegmatites. The size distributions of kaolinite and other clay minerals in the deposits range from about 30 pm to less than 1 pm (Figure 9.6). Other minerals in the deposits such as quartz, mica, and feldspar are coarser and have a minimum size of about 20 pm.
China clay is used in ceramic products, plastics, rubber, catalyst carriers, pigment additives, filler, and coating clays in paper. All these uses need different properties in particle size and form, brightness, gloss, reflectance, rheology, breakage
H2O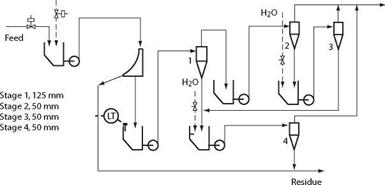 FIGURE 9.6 Flow sheet of a China clay production system using cyclones (Heiskanen 1993; reprinted by permission from Kluwer Academic Publishers)
strength and abrasiveness. Particle sizes vary from 90% -20 pm to 90% -1 pm. (Heiskanen 1993)
Cyclones are the most suitable processing units, with 50- to 125-mm (2.0- to 4.9-in.) cyclones being used for the initial classification and 10- to 25-mm (0.39- to 0.98-in.) cyclones for the production of the highest grades of clay. Cyclones that can deliver -10-pm products are now important in processing circuits because of the very fine-grained ores, which must be ground and concentrated, and because of the demand for ultrafine parti­cles of industrial minerals.