The MB mill was designed and built in 1947 by Max Berz, formerly head of the design department at von Grueber's company. It had three large rollers that rotated in a track­ing groove and were pressed down by a thrust ring. The rollers were not fixed by roller bearings and could move relative to each other when they were driven by the rotating grinding track. This limited the speed and capacity of the mill and was not very successful.
Gebruder Pfeiffer AG licensed the mill in Germany. This company grew out of a small workshop that was established by Gebruder Pfeiffer in Kaiserslurten in 1864 and
FIGURE 6.14 The 6.3-m diameter table and 2.7-m diameter rollers of a Loesche mill during installation at the Siam Cement Company's Thung Song plant in Thailand. The four pedestals are at different stages of construction (Ongtkoon 2000; reprinted by permission from Loesche)

FIGURE 6.15 Rollers in series preparing and grinding the bed of particles (Schaefer 1999; reprinted by permission from Loesche)
which specialized in designing and making equipment for cement plants. Engineers soon changed the design of the MB mill to locate the rollers in fixed positions, and the mill was then called the MPS mill. They used a thrust frame to supply the grinding force to the rollers, and this permitted the rollers to realign themselves with the track as they wore. In the United States, Allis-Chalmers began manufacturing dry-grinding systems in 1970 using Pfeiffer rolls under a license agreement with Gebruder Pfeiffer AG. The Pfeiffer rolls were found to use almost 50% less power than ball mills.
The Polysius Company introduced a roller mill in the 1960s to add to its range of equipment for manufacturing cement (see Figure 6.16). It consisted of two sets of double rollers running in tracks on a rotating grinding table with each double roller suspended in a carrier. The grinding force was applied to each roller pair by hydraulic cylinders. The material being ground entered the mill at the center of the table and passed across the two tracks before being discharged. Rollers were interchangeable, and vertical movement allowed automatic compensation for wear.
In 1970, Babcock & Wilcox introduced the MPS mill to the U. S. market for pulverizing coal in power stations, and more than 1,000 mills with motors up to 930 kW (1,250 hp) and capacities up to 105 tph were sold within 20 years. The company had been building ring and ball mills for pulverizing coal since the late 1920s and by 1990 had installed more than 1,600 mills for industrial uses.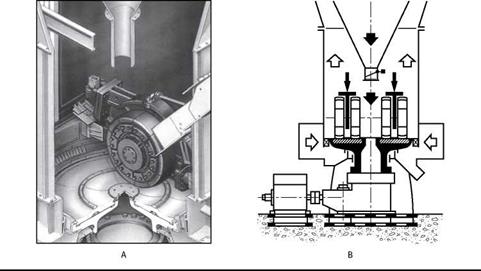 FIGURE 6.16 Polysius vertical roller mill: (a) inside the mill (Courtesy of Krupp Polysius, a Company of ThyssenKrupp Technologies) (b) mechanism (Brundiek 1989; reprinted by permission from Loesche)
The predominate use for roller mills has been for the dry grinding of coal, cement raw materials, and nonabrasive industrial minerals for the chemical industries. When roller mills were used for coarse and fine grinding of cement clinker, they used less power than ball mills; however, the abrasive characteristics of clinker are much greater than those of limestone. Major shutdowns of roller mills are required to replace the wearing surfaces, and these shutdowns are frequent with roller mills that are used to grind cement clinker. Grinding balls in a ball mill or in a multicompartment ball mill is the major source of steel consumption in these mills. Adding grinding balls to a ball mill does not require a time-consuming and costly shutdown; balls can be charged to a single­compartment ball mill without shutting it down. This is a good reason not to use roller mills to grind cement clinker.